We decided the idea of over 200 bongos grazing in a field near Stourport must be a sight to see so on Thursday we headed off in the
general direction of the 2008 Bongo Bash
at Stourport stopping on the way at the
Broadway tower
for Geoff to do a
Panorama
. It was nice and quiet there and a lovely 'clearish' day so the resulting 'pano' was deemed a candidate for the
WWP event
. We then travelled to
Wolverley Camping and Caravan site
. As usual, for the
Camping and caravan club
it was a lovely site and what made it even better was through a gate at the end of the site a short walk away was the Lock Inn, which was situated next to a canal lock. It looked hard work opening and closing the lock but these people seemed to have perfected the art. The evening was lovely and the cider even better!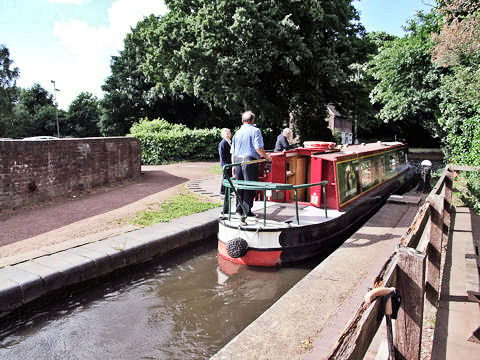 After a very good nights sleep we headed towards Stourport to view this strange phenomenon - the annual grazing of the Bongos! We arrived at
Lickhill Manor campsite
mid morning and the
Bongos were gathering
. The Bongo Plod directed us to the next available pitch and after a few minutes 'fettling' the kettle was on! What a beautiful evening! We enjoyed watching the kite flier – another
Panorama
was born. The sunset was lovely and yet another
panorama
emerged! We spent the next two nights marvelling at the sight of 235 bongos enjoying the summer solstice! The sun shone the rain rained but nothing could stop the Bongos and their owners enjoying themselves. What amazed me was how over 200 identical vehicles had been personalised – Sorry the term according to the
Bongo Fury club
is pimped! What was good to see was how the bongo cubs could enjoy themselves, not a PSP or computer in site just kids enjoying playing - another rare sight these days. Sunday the wind really blew and played havoc with those who were trying to pack up tents and Gazebos but sadly slowly and surely the field emptied and we set off for our next camp.
On the way we stopped off at Ironbridge for another
Panorama
to be created. I can really recommend the pastie shop opposite the bridge.
That evening we found
Blackmore Camping and Caravan site
so peaceful and it even boasted a Wifi connection so a sunny peaceful evening was spent there before we finally headed home next morning.

---
---