Verity
John Wasn't
Secrets
Sixty Years
---

[ view entry ]
( 1960 views ) |
[ 0 trackbacks ]
|
permalink
---
[ view entry ]
( 2069 views ) |
[ 0 trackbacks ]
|
permalink
---

[ view entry ]
( 1824 views ) |
[ 0 trackbacks ]
|
permalink
---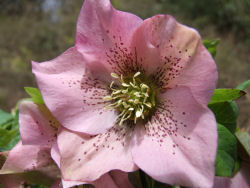 I do wish Hellebores would turn their faces to the sun instead of growing in downward facing clumps, they are such lovely flowers. I will post one of the pictures here when I've worked out how! Just wish I could keep up with technology.
We came back from Highdown and I spent the afternoon in my garden, generally tidying and filling in the empty spaces in the garden (Only a couple). I had 3 Dicentras (AKA Bleeding Heart) that I got from Wilkinsons earlier in the weekto put in. They are so attractive when they flower and return year after year. I am also pleased that I took loads of Geranium cuttings last year and they have survived and are now looking healthy. I usually go out each year and buy new ones but it was so easy I don't know why I didn't do it earlier! While working in the garden and out at highdown I was amazed to see quite a few bumble bees and even a couple of butterflies I'm sure they are early.
Gosh just read through this and realised that I have wibbled on for an age! Never mind - the Chinese takeaway is beckoning me.
[ view entry ]
( 1928 views ) |
[ 0 trackbacks ]
|
permalink
---
My forgetter's getting better
But my rememberer is broke
To you that may seem funny
But, to me, that is no joke
I can so understand it, plus - I believe in the here after, I'm always walking into a room and thinking 'What am I here after?' There again I don't forget the important things in life, I went clothes shopping today, but the less said about that the better.
I'll write this earlier in the day tomorrow when I'm not so addled, as they say in Lancashire. Tatty bye for now.
[ view entry ]
( 1292 views ) |
[ 0 trackbacks ]
|
permalink
---
<<First
<Back
| 4 | 5 | 6 | 7 | 8 | 9 | 10 | 11 | 12 | 13 |
Next>
Last>>