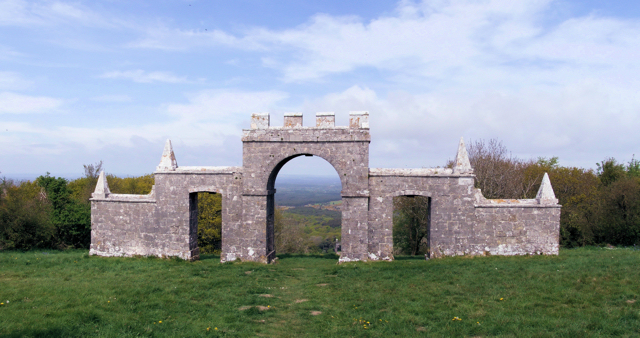 We waited until everyone was heading back to work after the early May bank holiday and the weather had improved before venturing off on our
travels again
. We booked two nights at the Camping and Caravan Club Verwood site, packed up Minnie and off we set. It was really good heading towards the New Forest when everyone else seemed to be heading out! We drove via Hinton Ampner where we paused for lunch. It was then onward to the campsite.
Tuesday we headed off to visit Creech Grange Arch, which is a folly built about 1745 by Mr Denis Bond, who at the time owned the Grange. I believe another member of the family at that time, a Mr Thomas Bond, was responsible for building Bond Street in London. The folly is now owned and maintained by the National Trust. It was well worth the visit as the view through the Arches as you can see from the above photo is well worth the walk from the car park. We then decided to take a leisurely drive towards the coast, Kimmeridge Bay to be precise, but when met with a sign telling us parking for a motor home was £10 I executed a very nifty three point turn and the car park attendant disappeared back into his box. We have enjoyed a full nights camping for less than that in the past! I'm glad we did that u turn, Lullworth Cove was truly picturesque and none too busy either. As we walked down from the car park towards the sea someone had decorated a tree in their garden with an amazing selection of buckets and spades obviously abandoned by day visitors! Then it was onto Durdell Door where we enjoyed a cuppa and a very short walk before heading back to camp.
Wednesday we visited Mottisfont Abbey Gardens, the riverside walk is very tranquil. Of course I just had to visit the Ice House and check whether any of Jonus Jewel's relatives lived there. You'll just have to read my Dragon Story to found out! Just beyond the Ice house was a picnic site surrounded by 34 Beech trees. The roses in the gardens were not at their best but the tulips, wisteria and many other flowers made up for that! That evening it was back to the campsite via Deadmans Hill in the New Forest. That evening we were enjoying our usual bottle of vino when a car went slowly past stopped, the occupants observing us for a few minutes before the woman got out and walked towards us. Being a usual Bongo owner I thought she was coming to admire the vehicle. NO! Her question was simple, 'We've just camped and have run out of Gas and now we can't find out how to get off the site. Where's the exit?' Trying not to laugh I directed her toward the gap in the hedge!
As the weather was going downhill we decided to head home Thursday, pausing at Towsure in Southhampton to buy a few more 'knick knacks' for the season.
---
---