It has a panoramic view of Glastonbury Tor and the Somerset Levels
– truly lovely although a bit misty. As we headed back to the campsite the patch of blue sky widened slowly till the sun really took over! Corned beef hash tastes so much better whilst watching the sun descend slowly in the sky and listening to the evening chorus of the local birds! Maybe the local cider made it taste all the better!
It's off to Glastonbury tomorrow to peruse the eclectic mix of shops!
Monday 12th April
After buying Apple and Pecan Danish Pastries from the campsite shop it was off to Glastonbury via the Cheddar Gorge to mooch around the weird and wonderful shops and alleyways. Every little alleyway seems to offer a different array of 'new age' shops and characters.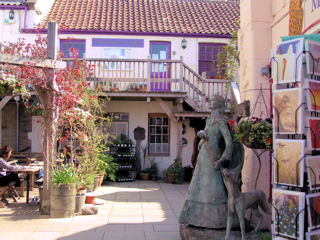 The most mystical character of all was a tall Eastern looking gentleman (well he appeared gentle!). He was wearing a long white robe, a pointed black hat with white turban around it, he also possessed a very long black curly beard which he was continually 'preening' whilst viewing the world through very small round spectacles. I just wish I could have covertly taken his photograph as I did this character who was playing a very strange stringed instrument……………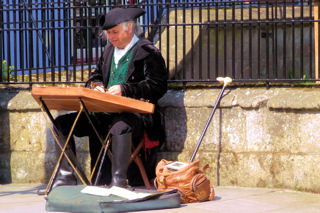 We then left Glastonbury and on our way out of town our dear sat nav tried to take us up Awkward Hill (Honest!) but one look at the gradient was enough to make me avoid it! Whilst in the shops in Glastonbury I had seen an imaginary map which listed a place called Velvet Bottom – now that I would have navigated!
A late lunch of Scrambled Egg and Smoked salmon was enjoyed at Deer Leap, although the view over to Glastonbury was misty it was lovely to spend the afternoon sat in the sunshine.
Back to the campsite for a curry, a bottle of wine and watch the sunset. What never ceases to amaze me is the number of campers who appear to spend hours sat inside their campervans watching TV whilst ignoring the bigger picture! I suppose each to their own!
And so to bed to the sound of church bells ringing, sounded like practice evening, and horses in the next field neighing loudly. They obviously try to sing along.

Tuesday 13th
Collect the Cornish pasties and off to South Wales Rhiandamon C&C Club site also fondly known as Round the Moon.' After a smooth drive we crossed the border control into Wales where we found a lovely layby at the side of the A40 to eat our Cornish pasties and take the above panoramic photo. It was then onwards through some lovely Welsh countryside to the camp site .We found it to be a lovely peaceful site beside the river Tawy. The sun came out again and it was a lovely warm evening.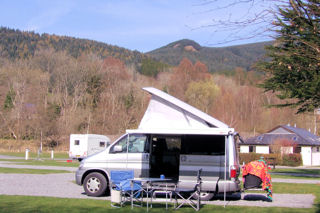 So to bed to the sound of the river.
Wednesday 14th
Dawned cloudy but we decided to take the high road around the Llyn Brianne reservoir. It was very scenic.
I found this lovely water chute but Geoff wouldn't oblige by sliding down it so I could get a really good photo! The wind was coming up the valley from the North East and it was mighty nippy and as you can see a bit grey.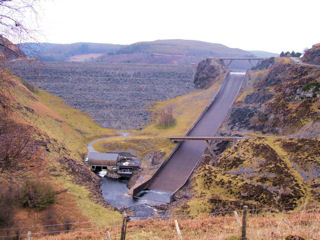 We found a lovely parking spot for lunch beside boggy pool or as the Welsh say Pwll Bo when the sun put in an appearance. Then on our travels we called in at a local 'craft' centre which will remain nameless because all it seemed to be stocked with was foreign goods and overpriced photographic prints that had been on the walls so long they had faded! Their saving grace was a good cup of tea and a slice of Barra brith (Fruit loaf to me and you!
Back to a sunny campsite for welsh steak for tea and the proverbial bottle of wine.
Thursday 15th

We awoke to yet another blue sky. We headed off to Lampeter for shopping via a small village in the middle of nowhere where we saw a Father Christmas look alike waiting at the bus stop. When we got to the supermarket it was obviously clear no one there was in a hurry. In fact I'll swear the man in front of me was wearing his pyjamas! Shopping on board we found a lovely spot at Cwm Berwyn (Above Pano)for lunch. Then it was a scenic drive through an almost alien landscape back to the campsitr for another sunny evening. We have decided to go to the St Davids campsite on the coast tomorrow to make the most of the sun.
Friday 16th

Up early – well before nine O'Clock – breakfast in the sun and we fortunately spoke to the site warden who informed us that St Davids campsite not open till later this month so we headed to Cardigan Campsite which we found peaceful, scenic and even another Bongo languishing in the sun. After lunch and a sun bathe we took a drive out to Aberaernon. This we found to be a very picturesque place made up a fishing harbour and numerous multi coloured houses which made for a good photo opportunity.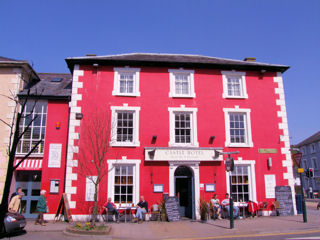 Saturday 17th
We set off early from Cardigan Bay Camp site in Search of the coast through very narrow windy lanes. When my Sat Nav told me to Zig I rebelled and decided to Zag and we came across this lovely bay only two miles from our campsite.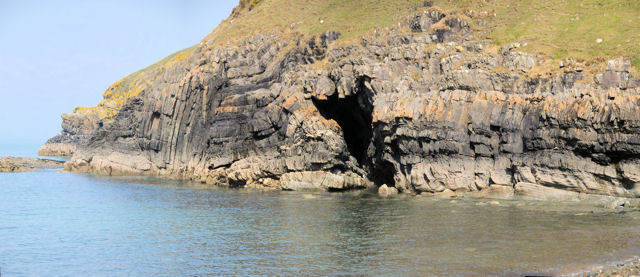 It was lovely and quiet and boasted a little cafe that made a good Bacon buttie! Then it was onwards to ........... with the reamins of a church that had been destroyed in a storm in 1839.
Sunday 18th
We had a a lovely relaxing day at ......... bay.
Monday 19th
We drove to Wynchcombe Caravan and camping club site. It boasted a lovely fishing lake with plenty of families of ducks!
Tuesday 20th
We had a lovely day ambling around Hidcote and our cameras worked overtime.
---
---